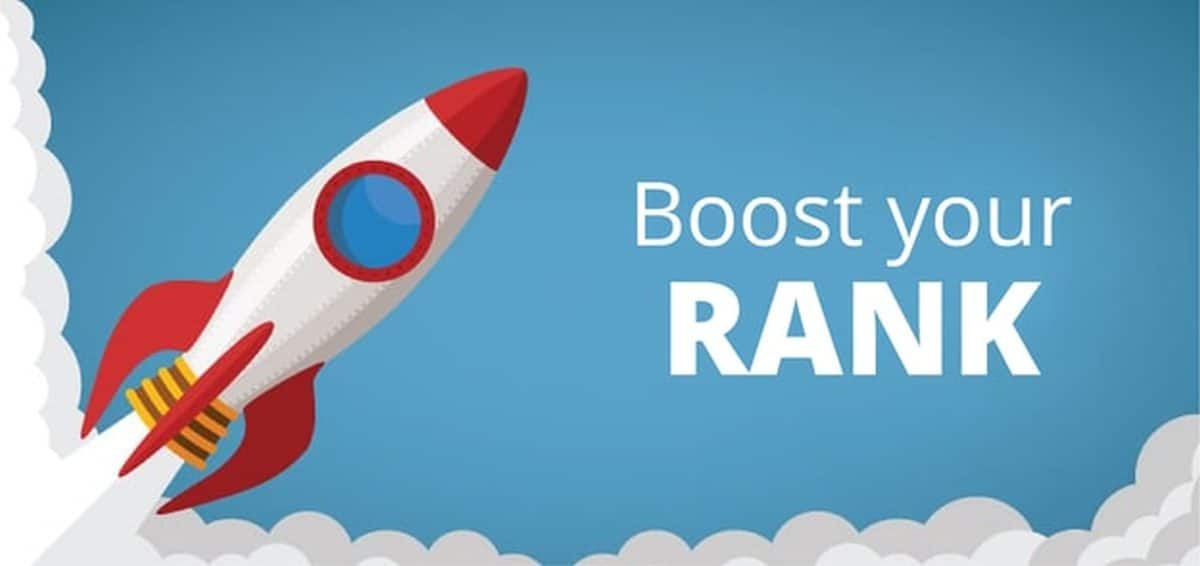 Jan 13

Semrush Tutorial · Backlink Checker · Keyword Research Tool

Posted at 3:24 am

in

Tools
Productivity Advice for cell phone or tablet
This page is optimized for desktop or laptop computers.
For example, the calculator, the screenshots, the video, the reviews and the tools used for this page are much better enjoyed on a large screen.
Of course, you're welcome to read on, but I wouldn't be any good at productivity if I didn't point this out
My advice: just email this post to yourself with the default Share Option on your device. Then you can read comfortably on a large screen whenever you're ready. 
It's just a tip!
Want to rank higher on Google? Semrush has the tools for you!
Semrush is a digital marketing all-in-one. 
What I like most is the clear user interface combined with the extreme research power.
My go-to tools are the SEO-tools to improve my rankings and grow my business:
keyword research combined with content marketing
backlink research in combination with link building
In a vast study, they reached out to 143 digital marketing experts to reveal their top 3 favorite SEO-tools: 
Semrush ranks #1
And 7 of the 10 biggest Google and Facebook Ads spenders use Semrush. 
Need I say more?
Why did I need Semrush SEO Tools?
For my SEO agency I needed tools to find the right keywords. 
The right keywords mean you look at the potential profit. 
So, you analyze a.o.
Search volume
Keyword difficulty
How well your pages are ranking already
Apart from keywords, I want my own sales funnels and websites to rank organically as well because I don't want to be too dependent on paid ads etc. 
That's where backlink analysis, building backlinks and content marketing come into play.
But what can Semrush do for you? (45+ tools and counting)
SEO: Competitive Research, Keyword Research, Link Building, Rank Tracking, On Page & Tech SEO
Advertising: Market Analysis, Keyword Research, Advertising Services, Ad Tracking, Social Media Ads
Social Media: Social Media Poster, Social Media Tracker, Social Media Ads
Content Marketing: Topic Research, SEO Content Template, SEO Writing Assistant, Brand Monitoring, Post Tracking, Content Audit
Competitive Research: Traffic Analytics, Market Explorer, Organic Research, Keyword Gap, Backlink Analytics, Backlink Gap, Advertising Research, Display Advertising, PLA Research
All the digital marketing and SEO Tools you will ever need · Semrush Tutorial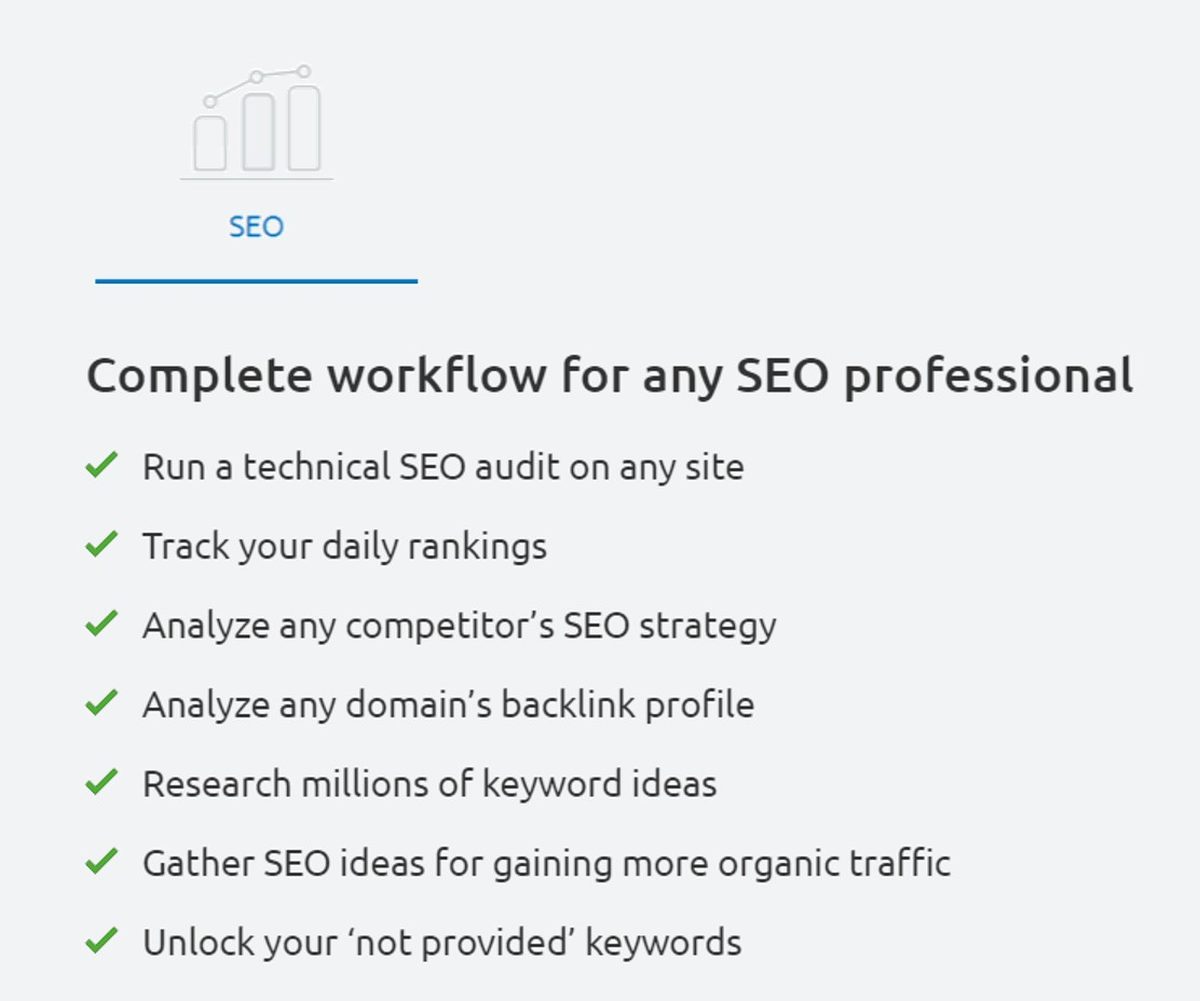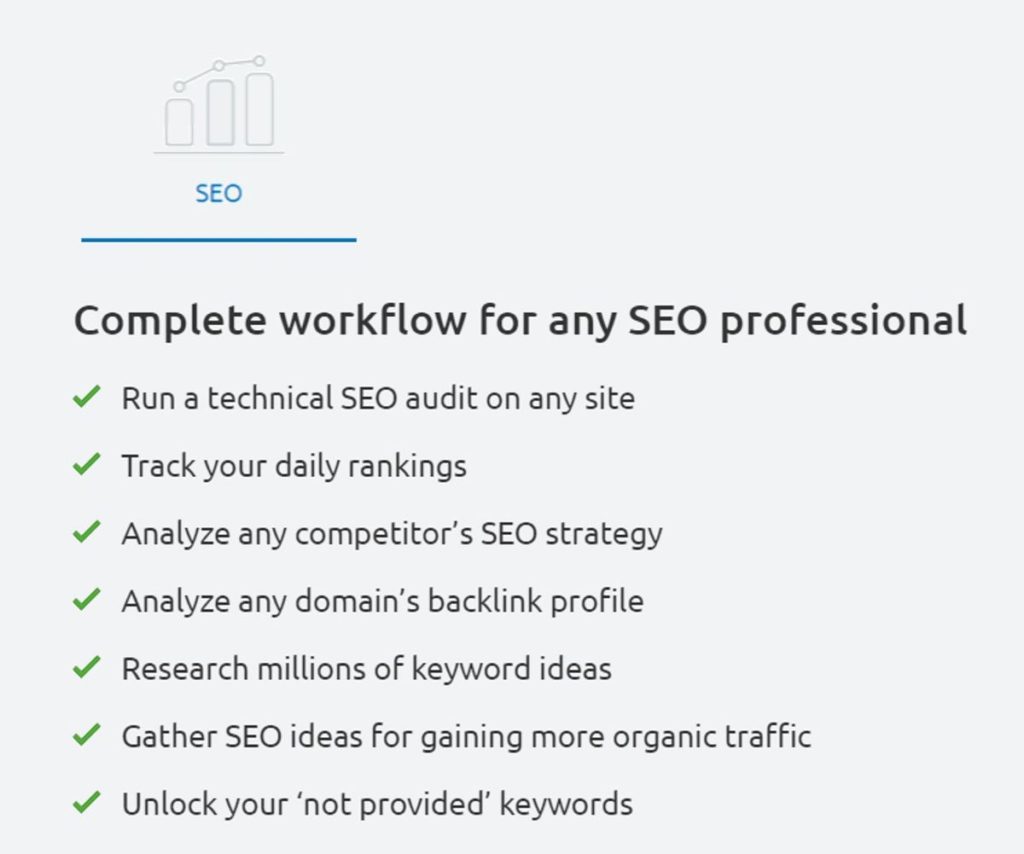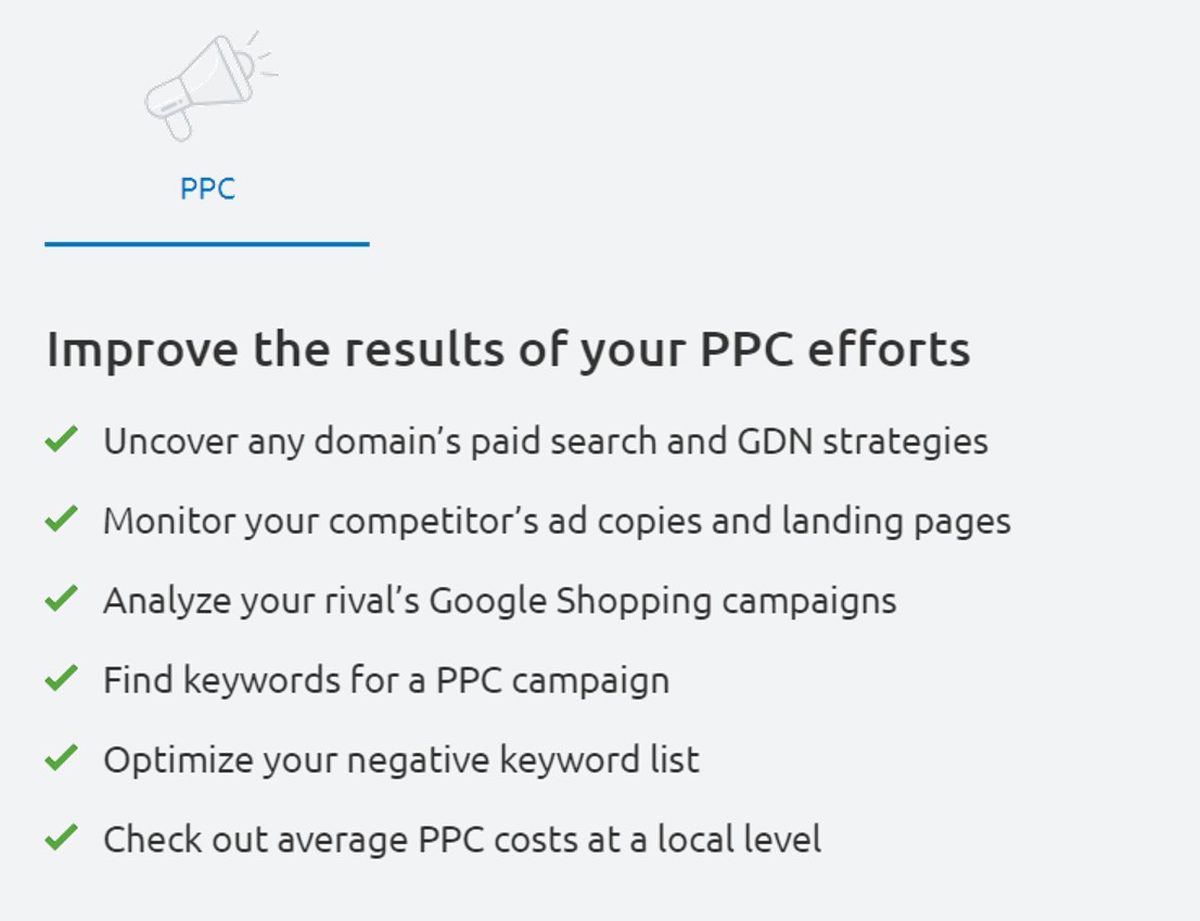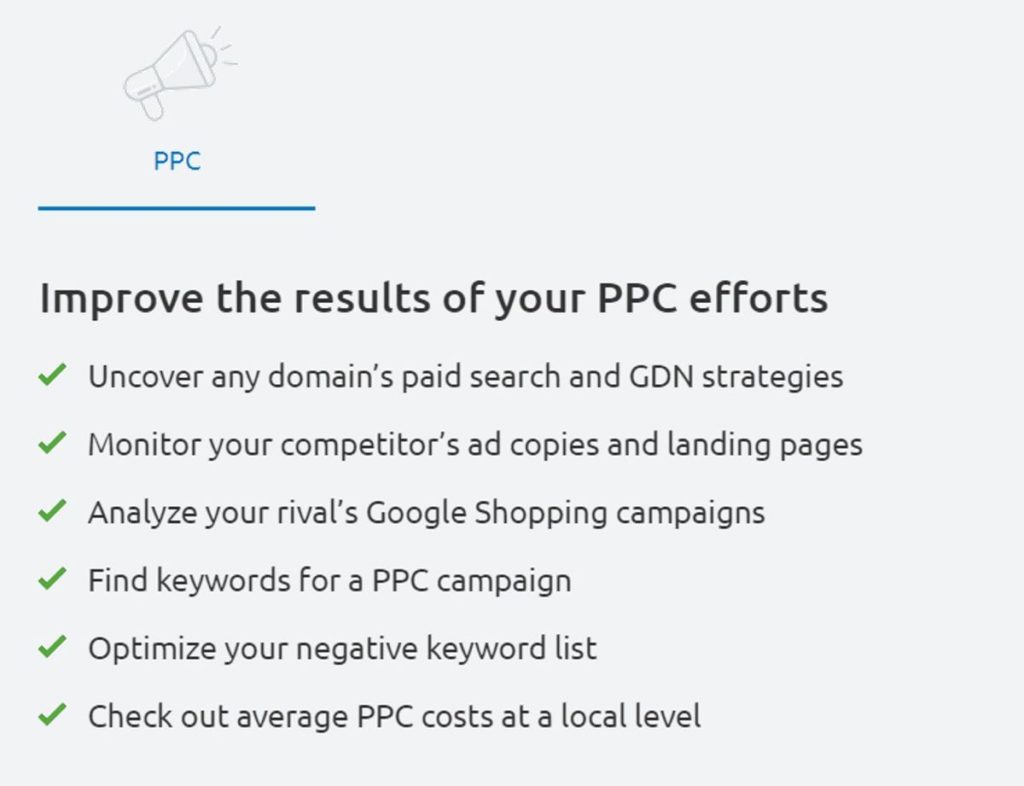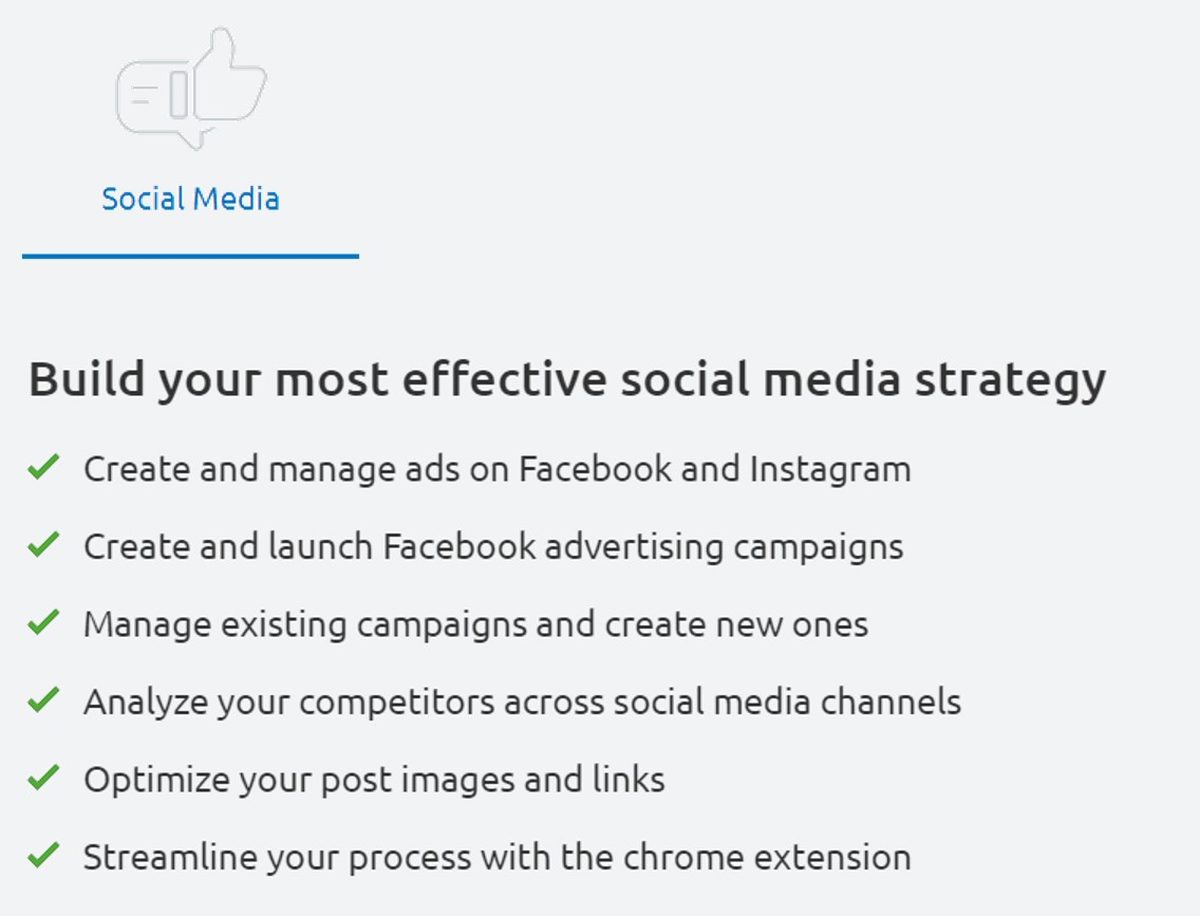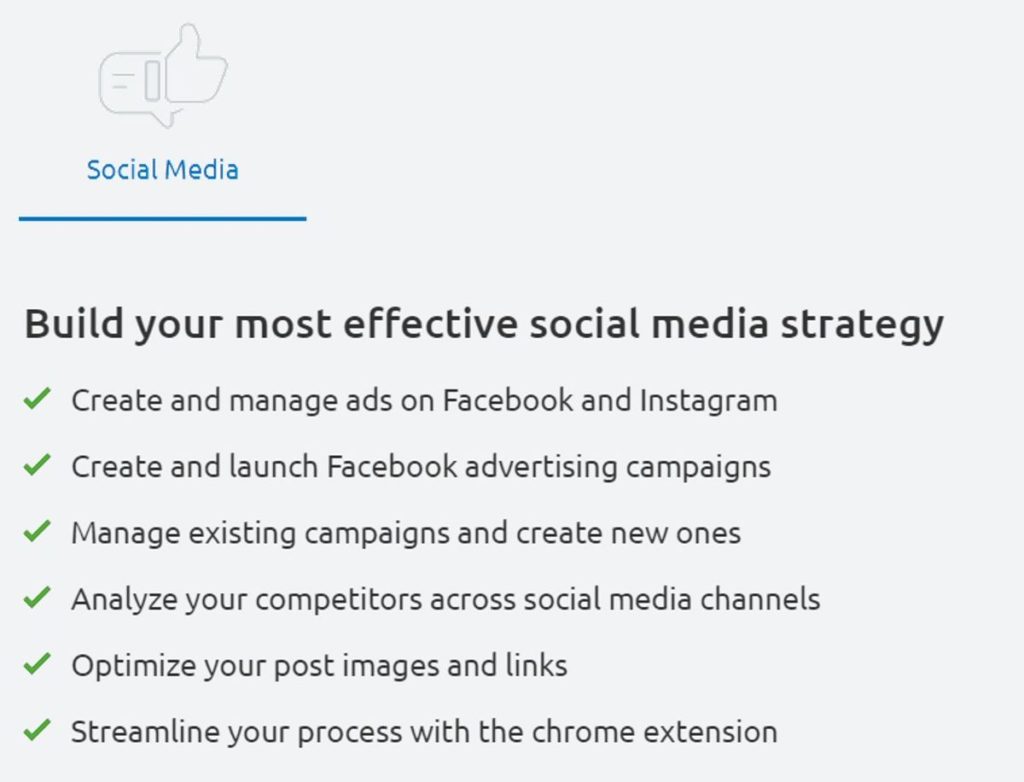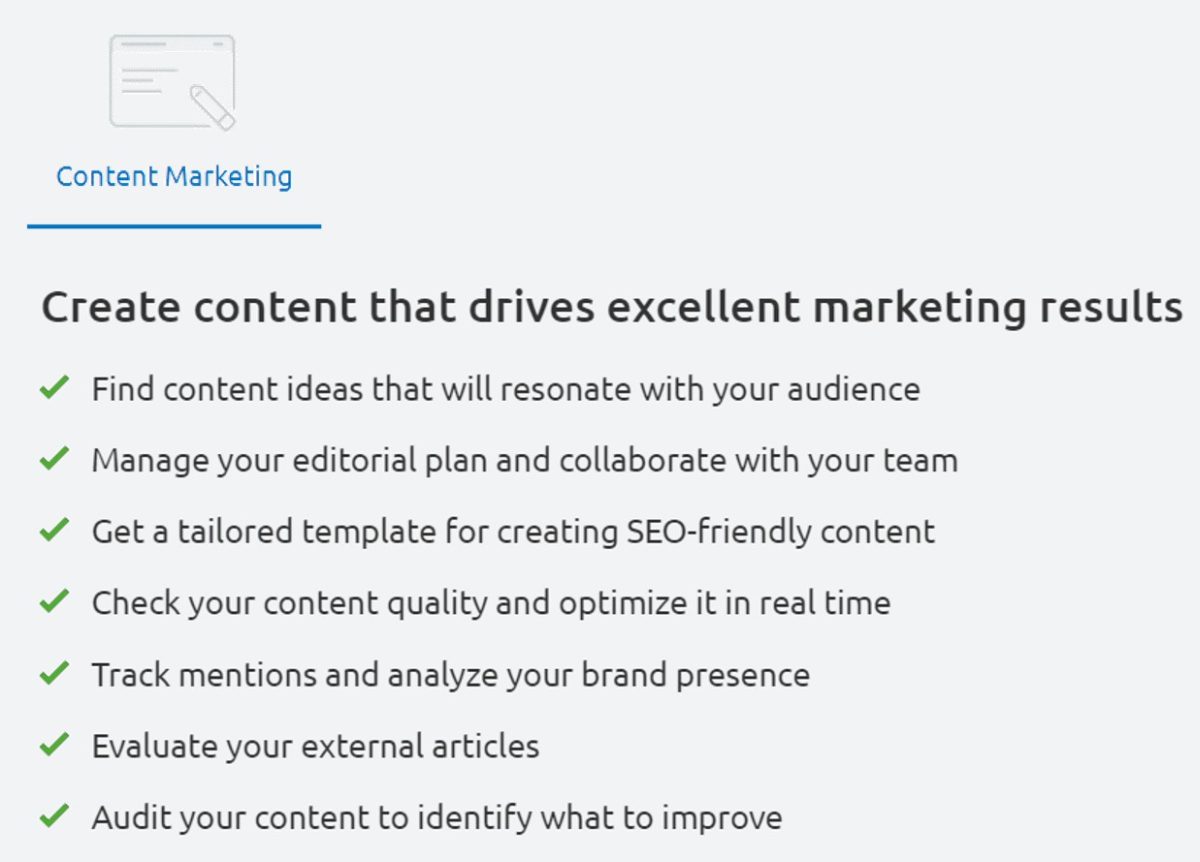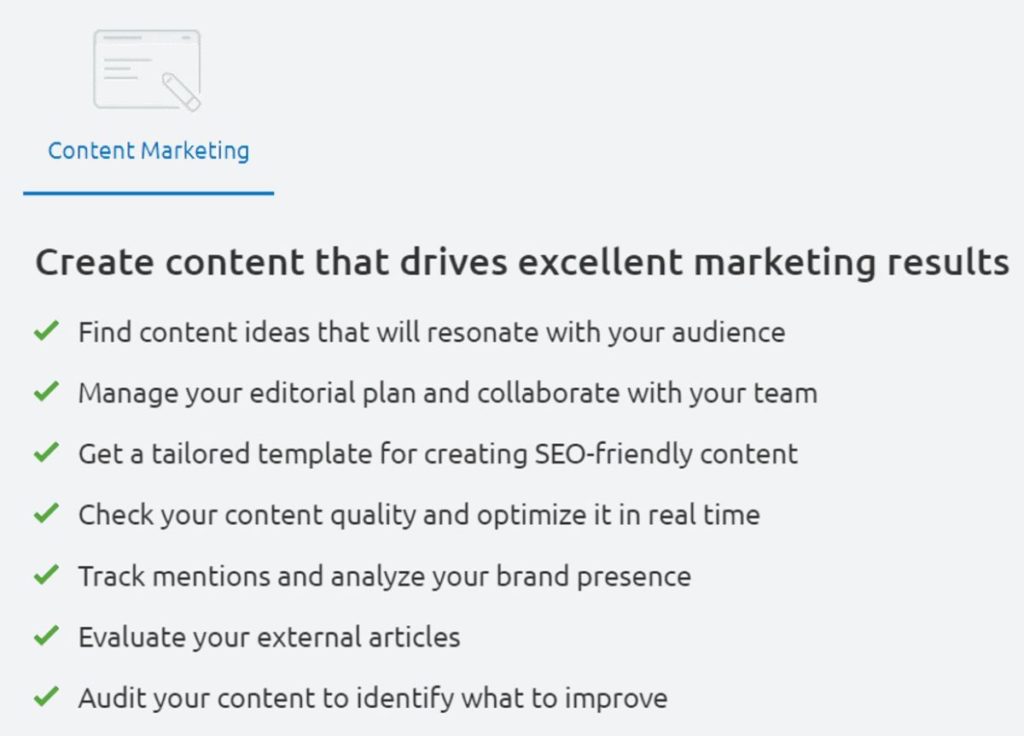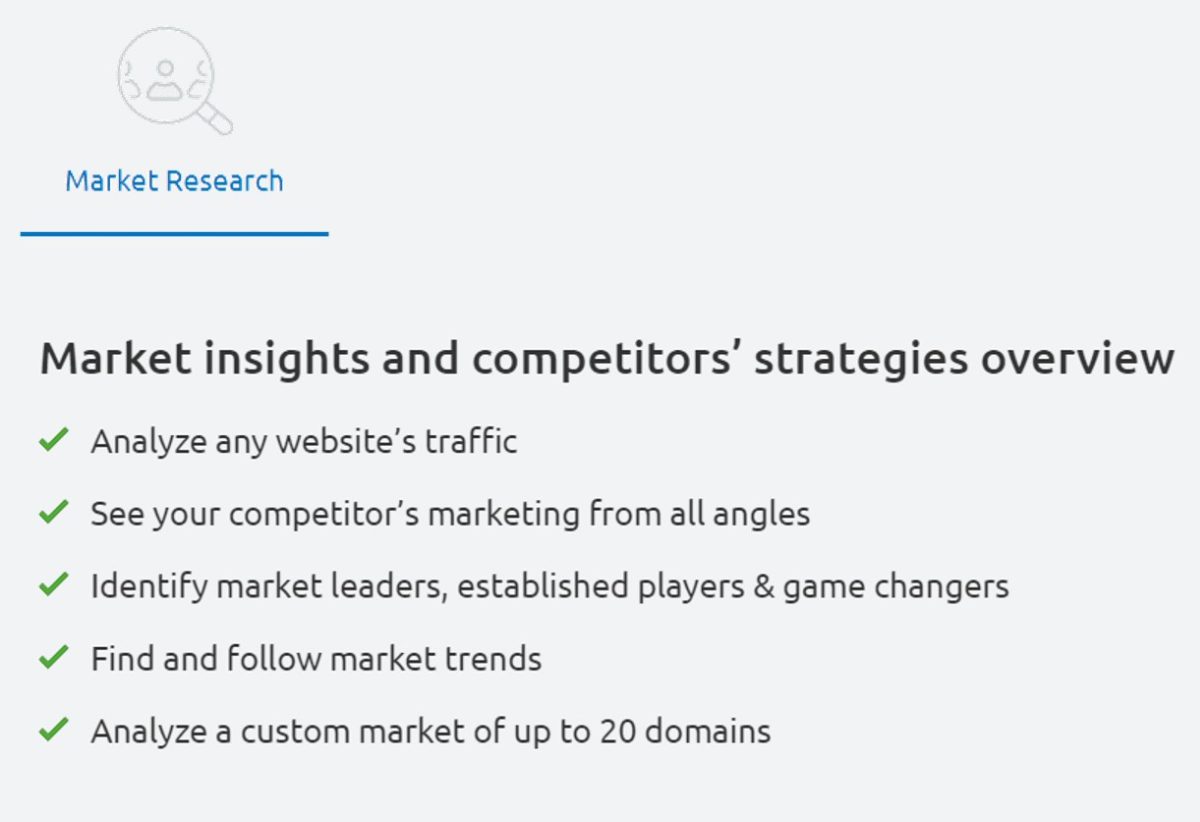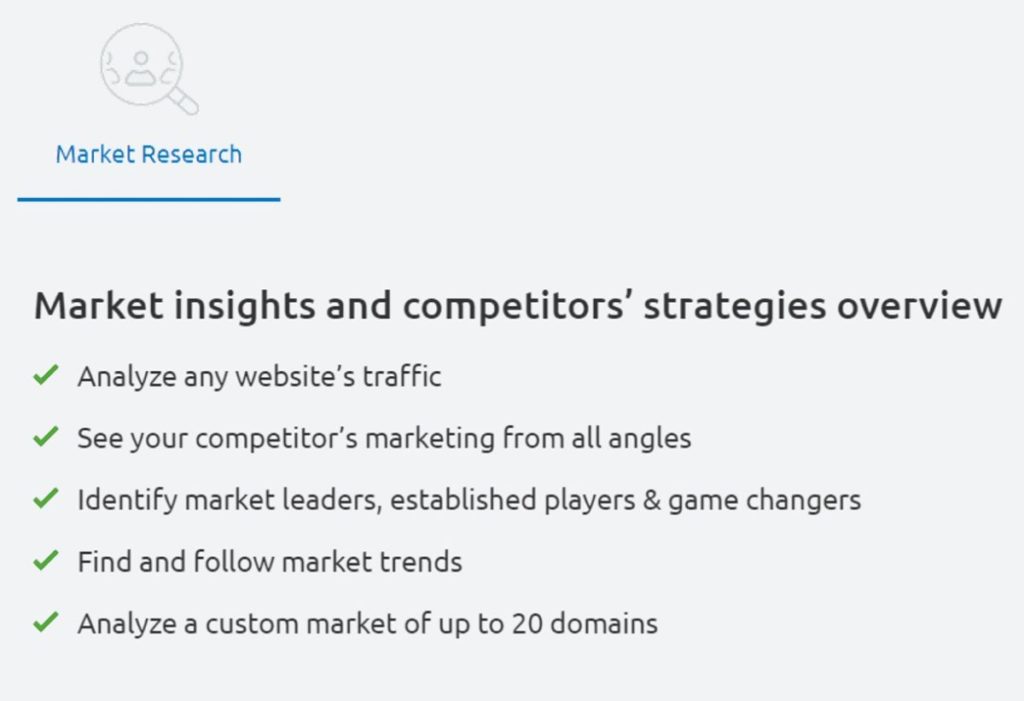 Watch my tutorial to see Semrush in action.
SEO Competitor Analysis: Keywords
Identify your competitors
Pinpoint their strengths
See how your keywords stack up
Find your keyword opportunities
Report and execute your next steps
SEO Competitor Analysis: Backlinks
Identify your backlink competitors
Pinpoint their strengths
See how your backlink profiles stack up
Find your backlink opportunities
Report and execute your next steps
BONUS: find "Not Provided" organic traffic
Semrush SEO Features · Semrush Tutorial

Semrush Benefits · Semrush Tutorial

Semrush Screenshots · Semrush Tutorial


The On Page SEO Checker by Semrush gives you great actionable SEO-ideas for more traffic!
45+ online marketing tools to choose from.
Many things Semrush can do but SEO PowerSuite can not.
Many things Semrush can do but SEO PowerSuite can not (2).
Many things Semrush can do but Ahrefs can not.
Many things Semrush can do but Ahrefs can not (2).
Semrush is the number 1 as voted by 143 SEO and online marketing experts.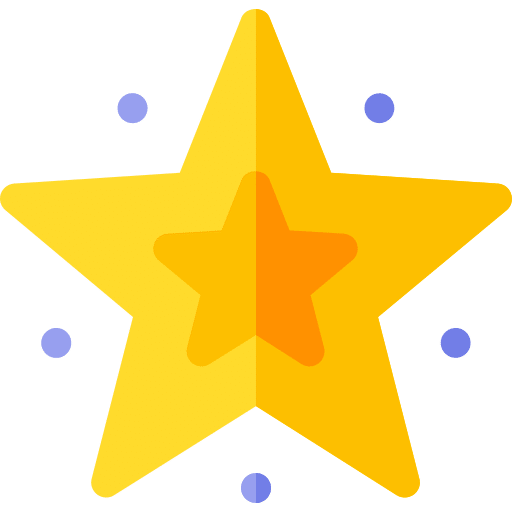 The Keyword Magic Tool

With this you will get a lot of golden keyword suggestions from the best database in no-time.

Filter and sort and you will find profitable gems!

Check my tutorial.
Semrush Characteristics · Semrush Tutorial

Type: Digital Marketing & SEO Tools Suite
SPECIAL OFFER

14-day FREE TRIAL (normally 7-day)
Frequently Asked Questions
Software tools are always in continuous development. This means that it's likely that the tool that I'm showing in the tutorial and/or in the screenshots will be different today. The information itself will just be as valid though.
If you need support with one of the tools, please go to the support page of the tool itself. Follow the buttons on this page to go to the tool and search for their support. Every tool has a frequently asked questions section and/or a support department where you can create a ticket. If you do email me with a support question, it just won't get answered, sorry. Otherwise I could never be productive and wouldn't be able to provide value anymore 🙄 
If your question can't be found in these faq's and you feel that it would really benefit you and other readers to be answered, please send me an email 📧
Tools used to create this post
All
Chrome
Media
Productivity
SEO
Time Tracking
WordPress
Semrush Tutorial Video Transcript
Hello!
If you are a digital marketer, social media strategist, an SEO specialist or anybody who does anything online, then please pay attention!
Because Semrush can help you with all of these areas. 
My name is Olaf, I am your ToolFinderr, and today I'm going to talk to you about Semrush. 
Semrush, as you can see, will give you higher rankings and more traffic. It's a powerful SEO and online marketing tool. 
As we can see from the home screen already, this is already one very interesting overview in which I had one of my sales funnels checked. Semrush claims that their ideas may help me increase my organic traffic by 28,000 visitors. 
Let's have a look at this later.
00:50 Why did I need SEO tools · Semrush Tutorial
Why did I need this?
I have a need for good tools because I have my own SEO agency, so I needed tools to find the right keywords. That was the beginning. 
Although I have used other tools as well, I have seen that Semrush gives me the best and most accurate volumes, which means also that your efforts in SEO or content analysis or content marketing will not pay off if you don't have accurate data. 
To know if a keyword will be profitable, you have to know:
The exact volumes
The difficulty
How well you are ranking at this time for this keyword
Apart from that, you'll need big data actually to give you a good prediction of your efforts you are going to do, and the keyword analysis is one of the most important things. 
It may be not the most fancy, it's a bit tedious to do, but if you don't do this analysis right, all your other efforts will be in vain. 
Secondly, I wanted my own sales funnels and websites to rank organically. Because I don't want to pay for ads or other things all of the time. 
Of course also you want to grow your organic traffic day by day, not only for me, but also for my clients. These two things are most important for me:
Keyword analysis
Back link analysis 
And, obviously, building on that from there.
02:14 What is Semrush · Semrush Tutorial
What is Semrush? 
Well, it's all-in-one digital marketing toolkit. And as you can see there are five main areas
SEO
Pay-Per-Click 
Social Media 
Content marketing
Market research 
Let's start with the first one. 
If we have a look at SEO you can see that they offer anything for every SEO professional.
A warning beforehand, their plans are not cheap, so if you are just starting off with SEO, then you can start with some free tools to get the hang of it. 
Once you get better in your job, and you will develop the need for more specialized tools and better data, then that will be the time to go to one of those tools like Semrush.
I have used, and I'm still using a couple of competitors of Semrush as well, like Ahrefs and SEO PowerSuite.
And in my humble opinion, I prefer Semrush over the other ones. But sometimes I still use parts of the other tools as well, also for validation purposes.
With SEO in Semrush, you can do:
Technical audits 
Daily rankings 
Analyze competitors
Analyze your backlink profile from yourself or for somebody else
Research millions of keywords ideas
Gather SEO ideas for gaining more organic traffic like I have just shown you on my home screen
And a nice little extra feature is that you can unlock your "Not Provided" keywords from google. I'm going to demonstrate this to you later on so, stay tuned.
03:50 PPC · Semrush Tutorial
When it comes to pay-per-click, you can do everything around this topic as well to improve your results.
You can uncover any domain space search and Google display network strategies, you can monitor ad copies in many pages of your competitors, you can analyze Google shopping campaigns, find keywords, optimize your negative keyword list, and check out your average pay-per-click cost at a local level as well.
04:17 Social Media · Semrush Tutorial
When it comes to social media, they also have a great array of tools that you can use, so you can build your most effective social media strategy with those.
You can:
Create and make your ads on Facebook and Instagram
Create and launch Facebook advertising campaigns from within the tool,
Manage your existing campaigns
Create new ones as well
Analyze your competitors across your social media channels
Optimize images and links
And finally, they offer you the Semrush Chrome extension to streamline this process to make it even more efficient.
04:50 Content Marketing · Semrush Tutorial
In terms of content marketing, they give you all kinds of tools as well, so you can:
find your content ideas that will resonate with your audience
manage an editorial plan
collaborate with your team (you can have multiple users in it)
have some kind of content marketing creation workflow
get tailored templates to create SEO friendly content on the fly
This will be checked at the moment you're writing it, even before putting it on your site, so you don't have to check it with Yoast afterwards!
You can check content quality and optimize it in real time, track your mentions and analyze your brand presence with this, evaluate external articles and audit your content to identify what to improve. 
All kinds of content marketing tools come with some Semrush as well.
05:41 Market Research · Semrush Tutorial
Last but not least, market research. 
This will give you market insights and competitors' strategies overview, so you can, for example:
Analyze any website's traffic
See their marketing from all angles
Identify leaders, players and game changers
Find and follow market trends
Analyze a custom market of up to 20 domains
As I said before, the main things I use are the keywords section.
More broadly the SEO section because I'm also using the backlinks a lot. 
In my case, I use the SEO section the most, but what I also use a lot is the market research because of the 200 million users they are actually tracking day in, day out!
06:32 Semrush Features · Semrush Tutorial
There are over 43 tools at the moment in the Semrush toolbox and, as you can see, only by filtering by SEO, we already have 26 tools.
43 tools and that's a lot. If you know that they started with only two, then you will know they will still be developing tools to help you on your digital marketing journey every day.
If you look at the features, then these numbers will maybe tell you something:
Data from 200 million real users
23.6 trillion backlinks
142 Geo-databases in the system, so whatever language you have, whatever country, your target
Analysis from over 18.8 billion keywords
All relevant search engines are in it
There are over 43 tools, as I mentioned, and growing
Millions of keyword suggestions
Very extensive reporting, and you can even white label the reports, so you can just use a Semrush template and send it to your clients
You will have the broadest learning platform I've ever seen regarding these kinds of tools. 
Plus they have the so-called Semrush Academy to teach you not only everything about their tooling, but more importantly, also about e.g. SEO and the basics, and the basics around social media marketing. If you are just developing your skills in this digital marketing world then, even if you're not a customer, you should check out this learning platform.
Last but not least, they have brilliant support, and they will offer you a dedicated account manager as well, which is very unique.
08:16 Semrush Benefits · Semrush Tutorial
When we talk about the benefits, one remarkable thing is the ease of use. 
It's such a broad, all encompassing, wide system that, with all the tools you have at your disposal, you would expect it to be cluttered and a bit clunky maybe, and difficult to use. But they still managed to keep it clear and easy and really simple to navigate.
You will find whatever you need, it has a very logical flow and navigation. The ease of use is really spectacular. 
Semrush gives you all the Digital Marketing tools you will ever need. And it keeps on growing, so whatever need you will develop, you'll be sure that it will be either in there already, or it will get in there as soon as possible.
After the first usage of using one of their tools, the learning curve will be gone, so you will be more efficient and more effective once you get the hang of it. 
My suggestion would be, just start with one tool, go from there, and then add the other ones. Before you know it, you will be an expert. 
For me, it's important that it will find me my moneymakers in terms of gem keywords. This is because of their big data and accurate volumes.
They use ClickStream, which is the biggest and best and most accurate data provider of online traffic, so you will know where to start from. It will give you marketing insights that you will find nowhere else, and this is really a necessity if you want to know where to put your efforts.
If you think a market is interesting, and you start with the wrong data, then in the end you will end up nowhere. 
Because it will save you many other tools, it will save you money in the long run as well. And because it saves you time, it will also save you money in my world. 
Just start with one tool, grow from there, and before you know it, you will use, I think I am using 12 tools of them regularly, and maybe 20 of the tools yearly.
Apart from those benefits, they also offer premium support and training. 
And, as I mentioned before, the academy is a really stellar environment to grow your skills, but they also offer premium support and your own account manager, which is exceptional in this world. Plus it saves you money, as I told you before.
Semrush is a trusted brand by the most important and biggest brands in the world, and they include 7 of the top 10 biggest Google Ads spenders. Seven of the top 10 biggest Google Ads spenders use Semrush. 
This should tell you something, right?
10:56 Why Semrush · Semrush Tutorial
Why should YOU use Semrush?
I told you before, they have the best data. And big data is important in terms of not only ranking, but also:
Keyword suggestions
Market analysis
Domain analysis
Backlink analysis
If you start with the wrong data or not enough data, your predictions won't be any good. That's why Semrush is by far the best in this area.
You should try Semrush because they have all these tools. 
It started with two in 2008, and in 2019 there were already 43 tools. Today in 2020 there are 45 already!
11:35 Semrush Reviews · Semrush Tutorial
If you look at the reviews of Semrush, you can see that they get nice reviews, 4.4, 4.6, and an 8.6/10 by all these big parties like:
Trustpilot
TrustRadius
Capterra
There are 1,167 reviews here, and they rate Semrush 4.6, which is really great. 
In my experience and in my opinion, Semrush is the most complete, but also the best digital marketing tool set that I have come across. 
Yes, I use SEO PowerSuite and Ahrefs as well, mostly for validation and to look at things from different angles. 
I use your SEO PowerSuite for ranking because I like the overviews I can get from there, but for the most part, and also default, I start with Semrush as my go-to SEO tool.
12:31 Semrush Success Stories · Semrush Tutorial
They also did a big survey under 143 experts, and as you can see in this case, they voted for their best SEO tools.
The most of the votes went to Semrush. You can see all the other ones below. 
When you look at the proof and the success stories, there are obviously a lot of interesting comments. 
"Just by using this tool we increased organic search by over 55 percent"!
We have a lot of testimonials from big blue chip clients and also smaller ones that use Semrush to help grow their business online. 
"1,000 percent organic traffic boosts significantly grow our organic traffic says booking.com."
As I said, move away from ad dependent ROI to organically generated sales, which is obviously one of the goals of every digital marketer. 
Vodafone is in there and Skyscanner, Smileworks, and all of these big users as well.
13:37 Ahrefs vs Semrush · Semrush Tutorial
Last but not least, I want to show you a comparison between Semrush and Ahrefs, and later on Semrush and SEO PowerSuite. 
I've left out all the things they can do both because that won't give you any difference. 
But there are a lot of options that Semrush is offering that Ahrefs is not offering, and the same goes for SEO PowerSuite. 
You can see here the areas:
Competitive research 
Keyword research
Rank tracking 
Backlinks
Homepage 
Content marketing 
Report and collaboration 
and you can see the things that Semrush can do and the things that Ahrefs can't do. 
Here is part two. Unique features, for example in:
Social Media 
Advertising 
Local SEO
Outstanding customer support
14:27 Semrush vs SEO PowerSuite · Semrush Tutorial
This is the version for SEO PowerSuite, so Semrush against SEO PowerSuite. All the things that both can do are left out in this overview. That way you can see where the differences are.
I'm not going to go through these as well, but you can see there are a lot of things missing in SEO PowerSuite as compared to Semrush. 
If you want, you can pause the video here and check them out. Obviously, as usual, the proof of the pudding is in the eating, so I'm going to take you to the tool. 
As you can imagine, 43 tools are a little bit too much, I would be talking for days. 
15:08 Semrush Keyword Research and Backlink Checker Tutorial
That's why I'm going to focus on two areas only. First one is keywords, so I will do a competitor analysis in Semrush and:
Identify my competitors 
Pinpoint the strengths of them
See how my key would stack up 
Find keyword opportunities
Report and execute your next steps
And the second part will be the same but then for backlinks. So:
Identify backlink competitors 
Pinpoint their strengths
See how backlink profiles stack up 
Find backlink opportunities
Report and execute your next steps
As a bonus, I will show you how to find the not provided organic traffic within Semrush easily.  
15:45 Dashboard of Semrush · Semrush Tutorial
Let's go to the tool.
Here we are in Semrush itself. 
This is the overview, and I will guide you through it in a minute. 
After that, I will show you a couple of highlights of the tool because, as I told you before, it consists of 43 tools in total.
So, it would take days and days of giving this tutorial to explain to you what it can do. I will focus on two things and two things only: 
Competitor analysis regarding keywords
Competitor analysis with regard to backlinks
These are the two parts that I use most, keyword research and optimizing backlinks and link building. 
We are in the tool now and, as you can see and as I explained, we have five different areas within Semrush. On the left-hand side, you will see
SEO
Advertising or Pay-Per-Click
Social Media 
Content Marketing 
Competitive Research
Beneath that, you can see some management tools like your client manager, if you are an agency, for example. 
Reports, your projects, the dashboard that I'm currently in, a lead generation tool, marketing calendar, and notes.
For demonstration purposes, I will go to the areas, and I'm going to explore these together with you.
17:04 Semrush Keyword Research Tutorial
I will start with the SEO competitor analysis with keywords. 
Let's assume I am sockdrawer.com, which is a sock retailer and has obviously a lot of competitors in the sock industry. 
This is my organic research dashboard, and I get a little overview of where I'm standing at the moment. 
If I went down, then I would see my top:
Organic keywords
Position changes
SERP features
Pages
Subdomains 
00:17:40 Identify Winning Keywords · Semrush Tutorial
What I want to do now is identify my competitors within this niche. 
For that, I am going to my competitors tab where I have a schematic drawing of my biggest competitors according to Semrush and I have a list of organic competitors below. 
This research competitors report will compile a full inventory for me. You'll find the big names and potentially some new up and coming competitors in this report as well. 
For this, Semrush uses a parameter called a competition level, as you can see here. The competition level depends on two things
how many ranked keywords my competitor has
what percentage of them are common keywords
For example, if you are a travel blog, Wikipedia won't be a competitor. Because, in addition to all of the possible places and travel tips you have written about, Wikipedia also ranks for billions of other keywords. 
On the contrary, another travel blog of similar size will be competing with you.
If I'm going through this list, one of them catches my eye, which is happysocks.com. This is because they are up and coming, and I want to know more about them. I want to know how is it possible that they came from absolutely nothing and now already have a big following, and I see them all over the place. 
For this, I go to the position changes report, as you can see here. Here we can filter all kinds of stuff and see what's happening with Happy Socks because I've entered their domain, my competitor's domain, in the organic research tool of Semrush. 
Spikes on the graph will let me know about certain changes in my competitor's rankings, and by clicking on one of the spikes, I could potentially see a couple of interesting keywords that were responsible for the spike. 
Let's do this. I will go to 27th October where you can see there's a spike, and we have a couple of new keywords. 
These new keywords or improved keywords may show a potential niche or new focus in my competitor's strategy, and their loss or the client keywords which might show me where they were penalized and lost their position. 
That could mean an opportunity for me and my site as well. I will keep those keywords in mind and bookmark them for another step when I'm picking out my opportunities to get ahead.
00:20:11 Analyze Competitors · Semrush Tutorial
Let's go down.
What I find very interesting in this table is that the number two, colorful socks, has been a new keyword for them, and it gave them a sudden spike and 1,267 visitors.
This is huge compared to all the other ones because it's new, but immediately it has taken the number two in the keywords!
So, I will be diving into colorful socks even more shortly.
If I want to know what types of content on the site of Happy Socks were the most successful in organic results, I will go to the pages.
If I click on this, I will see what pages are responsible for it, but for now, I'll go back to my position changes because I think the spike on 27th October is very interesting indeed, especially regarding the colorful socks.
Now we have done step one, identifying our competitors, and we have done step two, pinpointing their strength.
Next I want to know how my keywords stack up compared to happy socks. That's where the keyword gap report comes in.
Here already I filled it out, but as you can see, Semrush always gives you an indication of what you can do. For example, in this case, the report has not been presented yet, so they say, how does this work?
You enter your competitors, you choose your keyword types, you get insights to stay ahead. Okay, so let's fill in sockdrawer.com, which is my company, and happysocks.com, which is my biggest competitor at the moment.
If you want, you can compare five sites in total, including my own, and Semrush will as a dropdown, give you some options of competitors that they deem appropriate to compare to, based on their algorithm and their competition parameter I told you about before.
What you can see in this overview is, for example, the keyword overlap. This is where you have the same keywords in common, and this is where only happy socks as the keywords, and this is where is sockdrawer.com, my company, has unique keywords.
The power of this report comes later because in this case, you can see all the keyword details for sockdrawer.com in a long list, with a couple of interesting columns, for example:
The volume
Search volume
The keyword difficulty
Cost-Per-Click
Competitive density
The number of results as organic search results
The most interesting for me would be: where are we weak compared to happy socks?
When I click this, I get 695 ideas of keywords where happy socks is a lot better than we are.
As you can see, the keyword socks, which has a volume of 165,000 per month, they are at number one, and we're only at seventy-eight…
So, something is definitely going wrong there. If you want, as you can see on the screen now, you can go to the URL immediately to check out what's happening.
For now, let's see what we can do because what I want to do is check out some keywords that give me a lot of potential, but are also possible to get on page one of Google without too much effort.
To accomplish this, I will go to my new domain, and I will say, I want to see the options between 11 and 20, and then sort it by volume, as you can see.
What you can see here is that SpongeBob socks or colorful socks will be interesting to target, but let's make it even a little more specific.
20 is still a bit too high for my liking, so I'm going to do 11 to 15 only. Then you will see colorful socks at number one with a volume of 18,100.
If you add these all up, you will end up with maybe 24, 25, 30,000 options, or at least visitors, that we could gain by getting these keywords on the number one page of Google, and maybe even in the top five.
This would give me great ideas to target.
In this case, we have seen how our keywords stack up against our competitors, and step four, how we can find keyword opportunities.
If I'm interested in these keywords, I can also check the ones that I'm really interested in, for example these, and add them to my keyword manager.
That way they will end up in a list and I can manage them from there on. These would be the low-hanging fruit in a sense that you are close to the top 10 already.
So, maybe by changing some stuff on the page or maybe doing something in the link building area, you can get these to the number one page soon.
Then you'd get many extra visitors without a lot of effort.
This would be my recommendation for keyword analysis.
00:25:29 Reporting and Next Steps SEO · Semrush Tutorial
Now we're at step five, which is reporting and executing next steps.
We have done steps one through four, and now we want to export the research and connect our insights to the next steps for SEO success.
We can export this whole file, we can add the keywords through the keyword manager, as I just have shown you, but what you also could do is check the page that is now ranking for colorful socks at number 14.
Open the URL, and check what you can alter to this page to rank higher. In this case, I can already see that the URL is funwomenssocks, and not colorfulsocks.
So, you could choose, and I would recommend in this case to create a page specifically for colorful socks and maybe for men and women together in the beginning, and put colorful socks also in the URL.
What you can also do is find quick On Page SEO wins with the Site Audit Tool and the On Page SEO checker form within Semrush itself.
If you are going to write new SEO content, you can use the SEO content template and the SEO writing assistant. Of course, you can follow your improvements on the SERPs with position tracking, all from within the Semrush tool set.
If you want to do stuff regarding on page or off page SEO, you can do that over here.
You can do the site audits, you can do the on page SEO checker, you can do the position tracking from here, and if you want a report, you can use many beautiful reports.
From templates already built into the system to report your findings to your manager, to the director, or to whomever it may concern.
00:27:20 Semrush Keyword Magic Tool · Semrush Tutorial
Last but not least, I want to show you the Keyword Magic Tool, which is one of the latest additions of Semrush to their whole suite.
You can use this tool to build a great master list of keywords without any effort. What you can do is go to Keyword Magic Tool from within keyword research, and if you're not sure what you are going to do here, you can just scroll down a little bit and they will explain what you have to do.
They first explain their gigantic databases and the Geo databases, and then, whenever you have your report ready, you can see a lot of interesting stuff like the:
Competitive density for ads
The keyword difficulty
Search volume
SERP features
It's called the Keyword Magic Tool because it works like magic, so to speak!
There's also a possibility to have some thematic keyword grouping that will be automatically done by Semrush, but you can explore them further by clicking on them, and we'll see that later on the left-hand side.
There are many smart filters you can use to explore the keywords even further:
Broad match
Phrase match keywords
Keywords in question form
Related keywords
to give you all kinds of ideas, and you don't need a spreadsheet to do this.
The Keyword Magic Tool was named the best digital tool in 2019 in the Interactive Marketing Awards by PubCon.
00:28:50 Analyze Keyword Opportunities · Semrush Tutorial
Let's start.
Earlier, we saw the colorful socks. Let's use this as an example.
What you can see when you are in the Keyword Magic Tool is a couple of things. On the left-hand side, we have the thematic grouped keywords, as we saw earlier. You can explore them even further if you want, by clicking on them, for example, like this.
You can go even deeper, but you could also choose another one and explore them for investigation purposes.
Furthermore, we have a couple of interesting columns, like the:
Volume trend over the last 12 months,
Keyword difficulty
Cost-per-click
Competitive density, which tells you something about how difficult it will be to get to the top of the PPC ads
SERP features that are triggered for this keyword
Number of results
You can even immediately see the results if you click on the list.
This is what the SERP results would look like at this time. If you want to do some more tweaking, you can do so by filtering.
For example, let's have a volume of at least 500, and I also want only keywords that have colorful. If I want only the term colorful in it, I need to enter the name with square brackets.
I have the exact match like this, and I will apply, and I will have only keywords that have the term colorful in them, and have more than 500 as a volume. I can add those to my keyword manager by clicking this button and checking the keywords that I want.
That's how easy that is. I will delete all filters for now, go back to the broad match, and I'm interested now in questions. This could give me some insights as well.
This would be questions that people ask, for example, with a voice search, and I could use these insights to include some of those questions into my content, if I wish to do so.
The Keyword Magic Tool will always store your search history to make it easier for you. If I went back to the beginning, you can see that it has stored my colorful socks query that I just entered, so you can go back to your queries and get the same query, but with the refreshed data, so you will always be up to date!
Let's go back to colorful socks. What I saw is interesting because the colorful socks have a cost-per-click of 0.65 dollar cents, which is not extremely high. It's actually pretty low. What's more interesting is that the competitive density is extremely low, so it should be possible to get good results with your PPC ads, if you would use this as a keyword. That might be interesting as well.
What I would do is add this to your list, and go take it from there.
32:29 Semrush Backlink Audit and Analysis · Semrush Tutorial
This was the keyword analysis, and now we go on with the backlink analysis.
Just like we did with the keywords, we are now going to do for backlinks, and we are going to do the same five steps:
Identify our backlink competitors
Pinpoint their strength
See how our backlink profile stacks up
Find our backlink opportunities
Report and execute our next steps based on our findings
Let's go.
First of all, we have to identify our competitors.
For this, Semrush has this backlink analytics, and if you go to backlink analytics, you have the tab called competitors, and we are in the competitors now. I've entered my URL over here and clicked on search.
As you can see, you already get an overview of our backlinks, our referring domains and the 40 score that we have, and you can also see the trend in the authority.
Semrush calculates the competitors based on the number of common backlinks. In this case, we could scroll down a little bit and see where our competitors are.
As you can see, Happy Socks is not in the top, and this means that we don't have a lot in common, but I'm very interested in checking them out, because of the keyword analysis we did earlier.
Another interesting fact that you could take into account is the total number of referring domains and the backlinks because if there are relatively few domains and a lot of backlinks, this means your competitor might be resorting to gray hat or black hat tactics.
00:34:08 Backlink Checker · Semrush Tutorial
The next thing we are going to do is to check the strength of our competitors, in this case happysocks.com.
First of all, I'm going to backlink analytics and check out the backlinks of happysocks.com, for which I have entered their URL in this search bar.
By scrolling down a little bit, we can already get a nice, interesting overview of their top backlinks, and as you can see, you can have a lot of filters here. For example, the links per referring domain, and I always prefer to check only one because that gives me the best overview.
What you can do as well here is check for new and lost. If I were to check new, this would give me an insight into what are potential opportunities for us to have links from as well.
What you can also do is check the referring domains. Happy Socks gets their referrals from dozens of domains, actually 7,063, as you can see here, from a couple of countries, and if we scroll down, you can see where that top link juice is coming from.
By link juice I mean the authority that will be given from one domain to the other. For example, if you get a link from Wikipedia, which has an authority score of 96, this gives you a lot of so-called link juice.
This means the juice will be seen by Google and this gives you higher rankings, so you can see what the best links are from the best referring domains with the highest authority scores. The index pages tab will give you an idea of the best referred to content, so the most backlinks and the most domains are referring obviously to the homepage.
But you can get some nice insights by drilling down on these pages to see what are interesting pages to link to. Maybe you can also get some ideas for your own pages because if you see a long tail…
Let's see if we got one, a long tail one. For example, this one, socks, underwear for women, gets a steep amount of backlinks from a pretty large number of domains.
If you check out this URL, you might see why. Maybe they found some new way of presenting their content, or they have some sort of new format. Just dive into it and you will know.
00:36:35 Check Backlink Profile · Semrush Tutorial
The next thing we're going to do is compare our backlink profile to Happy Socks.
We're going to the backlink gap tool first. This is the same as within the keywords, and you can get a great overview of your domain compared to, in this case, happysocks.com, but it could also easily add three other competitors in here.
When I click on it, Semrush will give me some ideas of our biggest competitors according to their algorithms. In this case, we can even get better insights by applying some of these filters. The best would be, literally, the best domains that point to all competitors, but not to us.
This would give us a great insight because if somebody is already linking to all of our competitors, but not to us, it would be a small ask, probably to ask them to refer to Sockdrawer as well. We could also apply this filter.
These are domains that point to us less than to other competitors, and actually, for me, those are the best filters, so if we click on best, it has already been applied. You can see where our link building opportunities lie.
It's not for nothing they call this find prospects and start outreach because in this case, you can see Wikipedia, for example, gives us an authority score of 96, which would mean a lot for our rankings.
These could be our prospects to get links from. Obviously, not all of them are valid or are really potential referral options because it might not be that easy to get a link from them, or for some other reason.
But there might be some potential gems in here to get links from. If you want, you can check a couple of those and start outreach over there. You could also export this.
In the backlinks' analysis overview where we are now, you can see I have compared Happy Socks to Sockdrawer again. And you can already see that there is a big difference in our backlinking practices.
While we started off more or less the same, we can see that Happy Socks really spent a lot of time and effort in backlinking. Here it went down a little bit for some reason, but now they're back up again.
There's a big difference, as you can see, 100 times more backlinks for Happy Socks compared to our petty 8,700. You can see that Happy Socks is the clear winner in every aspect, which makes sense because backlinking is critical to Google.
Now we understand why they outrank us in pretty much everything because they spent a lot of time and probably also money on getting organic traffic by backlinking.
00:39:26 Analyze Backlink Profile · Semrush Tutorial
When we go to the overview, so I'm not comparing to other ones, just checking Happy Socks, you can see again where they got their new backlinks from
But you can also see why they lost a lot. For example, in this case, they lost a lot of backlinks, and that might be because they have some pages or sections that aren't working anymore.
By diving into those, it could give you any ideas because if they refer to some broken pages, then you might step up and try to convince the ones that refer to those bottom pages to link to you instead to some article that you wrote that is even better than theirs. This is what you can do with this report.
Our best backlink opportunities, again, we will find by going to the backlink gap. In this case, you enter some of those filters, check those that you find interesting, and start your outreach. This could mean a whole world of difference between getting some organic traffic or getting a lot of organic traffic.
As you know, once you have done your work, the rest will be for free forever. What you can do now is a couple of things.
Obviously, we can report our findings. We could also export this, but here you can use the my reports section to draw up a nice report with your findings, and report this to your management or to the director, or to your colleagues or maybe just for yourself.
You can also do a lot of other stuff now with these findings:
Start a link building tool campaign in a SEMrush project within your projects
Upload a list of our prospects from the backlink gap into the link building tool, which is over here
Conduct outreach from SEMrush by crafting email pages and responding to webmasters via a connected inbox in the link building tool
Use this link building tool to really start to outreach to these potential gems we just discovered
These link building opportunities can be managed from within SEMrush as well, so you can follow up every step of the way to see if they are responding or not, and if you will get a backlink or not.
Last but not least, you can do a backlink audit to see if you actually got the backlinks or not, and if you are growing in backlinks compared to previously.
At the same time, the backlink audits can also tell you if you've got some potentially dangerous backlinks. If there are some toxic backlinks in it, you can also see this via the backlink audit tool.
That's it for our competitor analysis regarding backlinks, and I promised you some bonuses, so let's go to them right away.
00:42:10 Google Analytics Keyword Not Provided Solution · How To Unlock Not Provided Keywords In Google Analytics
One other thing you can do within Semrush apart from a gazillion other things, is you can have the On Page SEO Checker work its magic.
In this case, it has checked a couple of pages of my IMPERIO Haarvezels sales funnel, and those are the two landing pages.
It gives me a lot of ideas, as you can see.
Here they say, they can help me increase our organic traffic by 1,000 percent, giving us 28,000 potential extra visitors, so that might be interesting as well.
I also promised you a solution for the Not Provided by Google.
If you are into SEO, you probably know what I mean. That Google Analytics won't give you details about the keywords that have been used to give you organic traffic, and it just says not provided…
This has to do with some privacy laws, but you still can get them easily through Semrush.
We are in the organic traffic insights now, still in the SEO dashboard, as you can see here, and these are a couple of projects that I have running.
If you don't have a connection yet with Google Analytics or Google Search Console, you can set up right here. For now, I'm going to go to this project, and I can click on this number to see what keywords this organic traffic is coming from.
Here you can see the actual keywords they entered. If you have a Semrush subscription, then there is nothing to worry about because all of those not provided will be given to you within seconds as you can see here.
I hope you like this, and I will see you in the next video.
Good luck 🍀🙏
Olaf the ToolFinderr
SPECIAL OFFER

14-day FREE TRIAL (normally 7-day)